General Information:
All items are listed with their net prices  VAT will be added only for EU private customers during checkout (in accordance with the rate in customer's country). VAT exemption will take place for European business customers providing a EU registered VAT Id (details here for valid Id structure).
All licenses, including academic, are perpetual (non expiring) and contain all features. Academic licenses are per-user, allow single installation and may be used only for educational purposes, by students and teachers. Standard licenses are per-user.
Software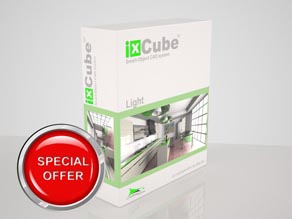 ixCube 4-10 Professional 64 bit one month license.

Footing design module for ixCube 4-10 and ixCube Fea

Update Reference Strategy FormFinder for ixCube 4-10

Steel design module based on British Standards BS5950

Steel design module based on EuroCode EC3

Steel design module based on American Standards

Wood design module based on EuroCodes EC5

Import Caedium CFD Data in ixCube 4-10